Vibratory Bowls Blog
Read the latest news, developments and opinion pieces on our vibratory bowls from mass finishing specialists PDJ Vibro Ltd.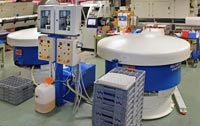 Galvanometers for laser beam steering and scanning in surgical, analytical and other applications include a precision-machined housing in which the stator moves. At the Poole factory of Westwind Air Bearings, which manufactures galvanometer components for its US parent group, Novanta, these coil housings are CNC turned from mild steel bar to within grinding tolerances.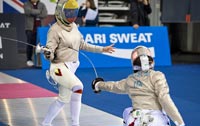 Many fencers around the world including winners at last year's Olympic Games in Rio use weapons manufactured by London firm, Leon Paul Equipment. What many of them may not realise is the level of expertise that goes into ensuring that the foils, epees and sabres are finished to a very high standard.
Peterborough subcontractor Westcombe Engineering has installed a new manufacturing cell to produce increased quantities of a family of aluminium engine components for Perkins Engines. It comprises a Haas ST-30 CNC lathe with short bar feeder, a Blast Wash top-loading washing machine and a vibratory bowl finishing machine from PDJ Vibro, the second to be installed in the factory.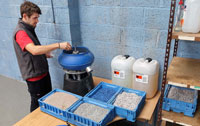 30% reduction in scrap leads to 3-month payback on vibratory bowl. Post Brexit, UK manufacturers will be cultivating more and more business from outside Europe. One subcontractor that already exports one-third of its output, nearly half to China plus some to the USA and Canada, is Stroud-based Truturn Precision Engineering.
Factories with metalcutting machines invariably use vibratory finishing equipment to remove burrs and sharp edges from components. If parts have been laser-cut from sheet metal, however, deburring and surface enhancement are sometimes secondary. The main purpose of the rumbling action can be to stress-relieve case hardening in the heat-affected zone (HAZ) around the component edges.
Winning a contract to machine large batches of two aileron parts from solid aluminium for the Airbus A320 presented Gloucestershire subcontractor, Norman Precision, with the problem of how to finish the complex components economically, as they require a large amount of hand deburring. The solution was the purchase of a PDJ Vibro 60-litre, bench-top vibratory finishing bowl...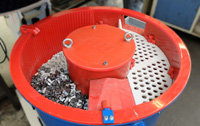 Having installed a 120-litre capacity vibratory finishing bowl from PDJ Vibro in January of this year, Rob Bennett, director of subcontract CNC machinists, Scot Bennett Engineering Limited, decided in May that he had ordered a machine of less than optimal specification. At the outset he had not appreciated the value of having automatic separation of finished components from the abrasive medium when processing is complete.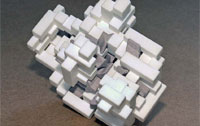 Preparation time for painting plastic components cut by one-third
To assist companies that are considering finishing 3D printed parts automatically using vibratory bowls, guidelines have been prepared by Ogle Models and Prototypes, a leading design and model making bureau based in Letchworth, Hertfordshire.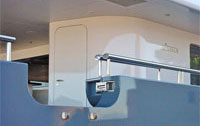 Family-run subcontract machinists, Mathison Engineering, specialises in producing 316 stainless steel marine fittings in quantities ranging from one-off prototypes to high volume runs. Accounting for around 80 per cent of turnover, the products are to be found in vessels all over the world, but mainly around the coasts of Europe, the US and Iceland.
When global materials engineering company Morgan Advanced Materials needed a new vibratory finishing bowl, the company turned to PDJ Vibro for a solution. Morgan manufactures high specification, technically complex components for a wide range of applications, from military to medical, transportation and petrochemical.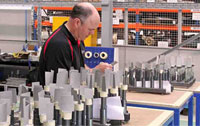 Vibratory cleaning and surface preparation brought in-house, together with engine test, in major investment programme. A £1 million expansion of activities at the Lincoln works of Turbine Efficiency has seen the installation of two stands for testing powergen gas turbines after they have been stripped down, repaired and rebuilt.