Jack Jacob at Leon Paul Equipment commented, "Five years ago we started producing a revolutionary pistol grip called Evolution for our epees and foils.
Many fencers around the world including winners at last year's Olympic Games in Rio use weapons manufactured by London firm, Leon Paul Equipment. What many of them may not realise is the level of expertise that goes into ensuring that the foils, epees and sabres are finished to a very high standard. To this end, a focus on deburring and surface treatment has seen two more vibratory machines installed in the factory by Bletchley-based supplier, PDJ Vibro.
"It allows fencers to use mouldable glue (Sugru) to customise the shape of the handle and was well received within the sport. However, it presented us with the problem of how to achieve the required uniformity of mottling and smoothness on the surface of the aluminium investment castings."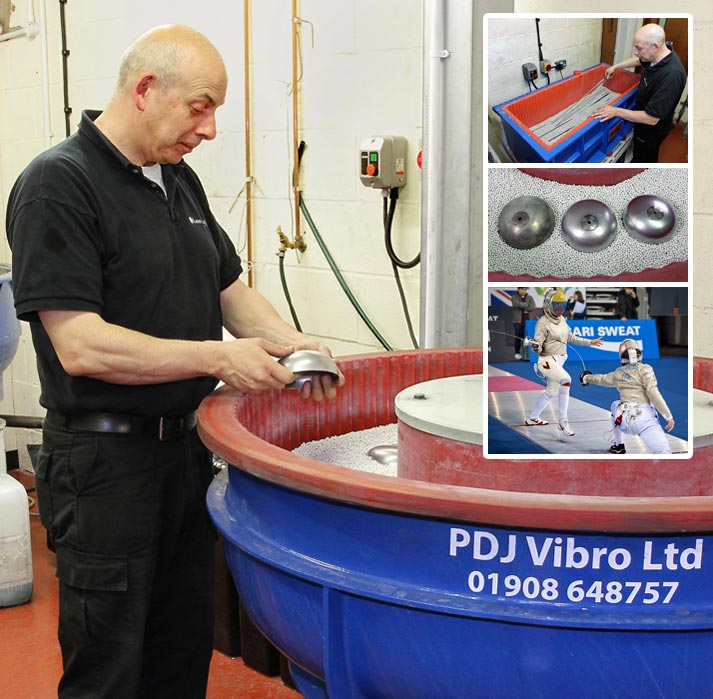 So for the first time at the London factory, traditional hand finishing techniques were replaced with automated deflashing and surface treatment in a vibratory bowl supplied by PDJ Vibro. The company's technical centre in Bletchley successfully trialled and then supplied resin deburring stones of tetrahedral shape combined with a second medium comprising conical stones to impart a light burnishing effect. The bowl is able to accommodate batches of between 50 and 100 handles at a time and completes them in one to two hours.
Guards finished automatically
The technique proved so effective in terms of speed and repeatability that Leon Paul Equipment looked to see which of its other components could benefit from similar treatment. Aluminium guards were an obvious choice. Leon Paul Equipment was previously turning foil guards on a lathe after forming in order to deburr the sharp edges before the final hand polishing operation using industrial polishing wheels. The process was both physically demanding and messy.
The viability of automating these tasks was established at PDJ Vibro, where sample guards underwent trials. It was so effective when subsequently adopted in Leon Paul Equipment's finishing department that every guard for foils, epees and sabres is now deburred and surface treated in this way.
Sharp edges and flash are removed from the aerospace grade aluminium pressings that form the guards of foils and sabres. Epee guards, which are made from the same material, are similarly processed although still need to be deburred on a lathe, as they are deep-drawn. All guards receive a smooth, mottled finish that is more uniform than the previous hand-finished result.
Vibratory burnishing adopted
Around half of the guards are polished to achieve a glossy surface. Mr Jacobs continued, "Polishing was carried out manually here, but again, it was a labour-intensive and dirty job.
"So at the end of last year, we decided to move down the route of automating that process as well. On the basis of the reliability of the first PDJ Vibro bowl, we recontacted them to explore the possibilities.
"After in-depth discussions at their Bletchley centre and successful completion of trials, in January they delivered a second vibratory bowl, a supply of small porcelain balls for burnishing our guards and a liquid polishing medium to ensure a bright finish."
He added that the procedure is highly productive. An operator puts 50 guards in the bowl and can then continue with other manufacturing duties, returning one or two hours later to unload a batch of polished components.
Weapon blade descaling under development
Enthused by the success of adopting vibratory finishing of handles and guards, Leon Paul Equipment has also invested in a PDJ Vibro vibratory trough for investigating the feasibility of automating the descaling of blades after heat treatment. Currently, the maraging steel components are shot-blasted manually to remove scale, which is essential to ensure the integrity of weapons that have the blade brazed onto a tang and desirable for the aesthetics of all products.
PDJ Vibro is giving continuing guidance on how best to proceed, not only with descaling but also for polishing premium blades instead of shot-peening them. Results so far are promising and have centred on the use of porcelain to finish around 50 blades at a time. Longevity of this medium has proved to be better than that of ceramic, minimising the consumable cost. Labour savings and consistency of result are, as always, the goal.
Mr Jacobs concluded, "Throughout all of these projects, PDJ Vibro provided good advice and a high level of technical consultancy, which is ongoing. They were good at guiding us through the entire process each time.
"The company is a total finishing solution provider. Its engineers know exactly what they are talking about and don't try to sell you anything you don't need."