Vibratory cleaning and surface preparation brought in-house, together with engine test, in major investment programme.
A £1 million expansion of activities at the Lincoln works of Turbine Efficiency has seen the installation of two stands for testing powergen gas turbines after they have been stripped down, repaired and rebuilt.
Another function that has been brought in-house is washing and surface finishing of the individual components before they are reassembled, saving £4,000 per engine on subcontract services.
The investment has been made against a background of strong business growth, which was over 20 per cent last year, while in 2014 the number of engines refurbished is set to double.
A key facility for cleaning and surface preparation of smaller parts is a vibratory bowl from PDJ Vibro, Milton Keynes. It was delivered earlier this year with an acoustic cover, automatic unload screen, ceramic media, metal finishing compound and water recirculation system. Components up to around 15 cm long, such as turbine blades, levers, brackets and bolts, are processed in the bowl while larger components are cleaned by hand.
Bringing surface preparation in-house and partially automating it is not only saving the previous subcontract finishing costs, which will amortise the purchase of the bowl within one year, but is also shortening by one month the turnaround time for refurbishing a gas turbine.
The reason is that the previous lead-time for cleaning an engine set of components for reassembly was six to eight weeks, whereas now all parts are finished within three weeks. Moreover, components like casings and blades that are required quickly by the rebuild team are supplied even faster, in one to two weeks, allowing work to start earlier.
A further benefit to Turbine Efficiency of having control over all rebuild functions is an improvement in quality, which has virtually eliminated non-conformance. It also sets the company apart from its competition, as well as from rebuild facilities within the engineering departments of gas turbine OEMs such as Siemens.
The normal finishing sequence in the 130-litre EVP-RA 100 vibratory bowl, after refreshing the previous water and compound solution in the recirculation tank, initially involves processing sets of stainless steel blades. These subsequently need only light blasting rather than the caustic strip that was previously needed. After the blades, progressively more soiled items from an engine set are put into the bowl for finishing. Typical cycle time per load is two hours and the vibration is adjustable to suit the components being processed.
Paul Holder, Repair Engineer at Turbine Efficiency, commented, "After evaluating a number of different bowl suppliers, we opted for PDJ Vibro mainly due to their helpfulness in making sure that we got the right system for our needs.
"We sent sample blades to their technical centre in Milton Keynes and were happy with the results.
"As there is no water supply near where we wanted to site the bowl, they recommended a recirculation tank for the aqueous finishing solution.
"PDJ Vibro is also advising us on the best ceramic media to use and has recently provided us with smaller sized stones that are ideally shaped to access the internal features of fir tree root forms on turbine blades."

Turbine blades for Siemens SGT 100 and 200 engines being prepared for vibratory finishing in the PDJ Vibro bowl by Paul Holder, Repair Engineer at Turbine Efficiency, Lincoln.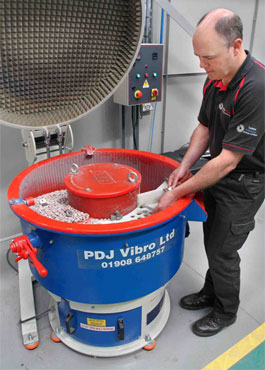 Mr Holder removing finished gas turbine brackets from the PDJ Vibro EVP-RA 100 bowl. The acoustic cover attenuates noise from the process and improves the working environment.

Close-up of the bowl, showing the screen that automatically separates components from the ceramic media. The water / compound recirculation tank can be seen in the background.