Vibratory Finishing Equipment Blog
Read the latest news, developments and opinion pieces on our vibratory finishing equipment from mass finishing specialists PDJ Vibro Ltd.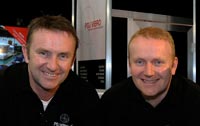 Family-run PDJ Vibro, a leading provider of vibratory bowls, troughs, associated consumables, technical consultancy and subcontract finishing, will focus at MACH on the depth of experience and expertise it offers to customers. Now in its second generation and run by managing and technical directors David and Paul Hurley respectively, the company was established in 1983 by their father John, the current chairman.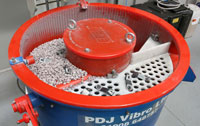 Leading vibratory finishing specialist PDJ Vibro promoted its comprehensive range of new and refurbished bowls, barrels and high energy centrifugal equipment, as well as the vast range of consumables on offer and the company's repair and subcontract finishing services.
PDJ Vibro will present the two sides of its business at Advanced Engineering UK. One is its new and used finishing machine sales activities and the other is its contract finishing service. Both are designed to make life simpler for manufacturers that want to minimise manual work and move towards automating the finishing process for health and safety reasons and to improve consistency.
High-end manufacturing solutions for the aerospace engineering sector are provided by Bowmill Engineering from several factory units on the Nuffield Industrial Estate in Poole. In the finishing and assembly department, machined parts are deburred carefully using a variety of finishing practices. In April 2016, the company decided to augment these by installing a PDJ Vibro EVT-320 vibratory trough alongside its existing vibratory bowl machine, which was at full capacity.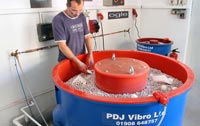 While the humble rumbler is often consigned to a dark corner in a factory and is one of the least likely machines to be replaced until it collapses, there is much more to vibratory finishing than meets the eye, as PDJ Vibro will explain to visitors attending the TCT Show + Personalize.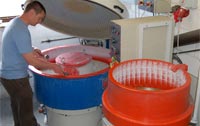 "The vibratory and centrifugal finishing processes are new to us and even though we carried out thorough practical trials with PDJ before we introduced the machines, there was still some scepticism here about the extent of their capabilities as surface finishing tools for the type of work we undertake. I'm glad to say that practice has demonstrated that the scepticism was unfounded."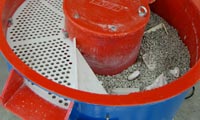 Selective Laser Sintering (SLS) specialist – 3T RPD Ltd, based in Newbury – has recently installed a vibratory finishing machine from PDJ Vibro, to complement its surface finishing capability.
Marine wind turbines are particularly susceptible to corrosion as a result of widely variable weather conditions and constant salt-spray. Their surface finish obviously has to be tough enough to cope with this environment and ensure a maximum working life.
One of the UK's leading specialists in 3D printing – Central London based, Digits2Widgets – has enhanced its range of surface finishing services with the recent installation of a vibratory finishing machine from PDJ Vibro Ltd. The new machine is dedicated to the high quality polishing of Nylon SLS parts and produces a very smooth, ivory-like finish.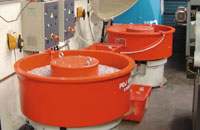 Well-established precision engineering firm, Dowse Engineering Ltd, based in Bletchley, Milton Keynes, boasts an excellent reputation amongst its prestigious customer base, which includes companies in motor racing, medical technology, aerospace, and the photographic and telecommunications sectors.