30% reduction in scrap leads to 3-month payback on vibratory bowl
Post Brexit, UK manufacturers will be cultivating more and more business from outside Europe. One subcontractor that already exports one-third of its output, nearly half to China plus some to the USA and Canada, is Stroud-based Truturn Precision Engineering.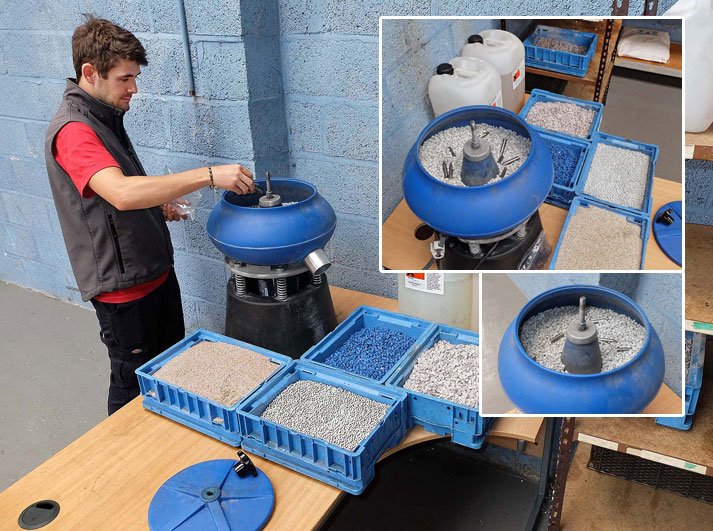 General manager Bob Wilkins commented, "We turn-mill up to 80,000 flow meter parts per month from a hard, exotic bar material for delivery to China.
"Customers there are very particular about the appearance of their components, as well as the dimensional accuracy, added to which they are constantly asking us to hold or even reduce prices.
"To help us meet these demands, we decided to end our policy of manually finishing every component. We now deburr, descratch and clean all the flow meter parts in a vibratory bowl."
As the turned parts are of relatively small size, the vibratory equipment chosen was a 21-litre capacity, bench-top TLV-75 bowl from PDJ Vibro. Purchase of the machine followed successful trials at the supplier's Bletchley technical centre.
The company also provided abrasive and polishing media as well as two types of liquid metal finishing compound. The latter are added to the water in the bowl to degrease, inhibit oxidation and brighten ferrous and non-ferrous materials respectively.
Major cost savings
Simon Lane, Truturn's quality, health, safety & environment manager detailed the many advantages the new finishing equipment brings.
He said, "Previously, one operator ran a cell of six sliding head lathes and a second person deburred the output by hand. As manually finishing the components has been eliminated, the labour cost associated with running the cell has been halved.
"There is also a saving in the metrology department, where the workload is lower, as it has moved from 100 per cent to random sample inspection."
He went on to explain that a reduction in rejected components has resulted in further cost savings. Rework and scrap, previously two per cent of production cost, has been cut by 30 per cent due to the higher consistency of vibratory finishing.
On the basis of this alone, the capital cost of the bowl was amortised within three months of installation, which was immediately after the MACH 2016 show in May, where the order was placed. It is noteworthy that the machine was operational at the Stroud factory within half an hour of its arrival on site.
A significant proportion of other components produced by Truturn is also finished in the vibratory bowl. Components turn-milled on sliding-head lathes from stainless steel bar at a rate of 1,000 per month are processed, while the largest rotational part that has been finished automatically so far was 100 mm diameter by 150 mm long. Prismatic components produced on the subcontractor's many machining centres are also deburred in the bowl.
Ryan Woodward, Truturn's sliding-head turning section leader said, "The PDJ Vibro machine is ideal for light-to-medium duty deburring and is often used to finish components completely, without manual intervention.
"If parts come off machines with heavy burrs, however, we knock these off quickly by hand using a wire wheel and then put the parts in the vibratory bowl. In such cases, the previous finishing time is reduced by typically 75 per cent.
"Days and days of hand finishing time are being saved, rather than hours and minutes."
Versatility of use
The ISO 9001:2008-accredited subcontractor, which is an NAMRC-approved F4N (fit for nuclear) company, is in the process of gaining ISO 14001 (environmental management) and BS OHSAS 18001 (occupational health and safety management) accreditations. It is also well on the way to a gold Investors in People award. The company produces components and assemblies for the defence, oil and gas, marine, process and nuclear industries from a vast range of materials.
They include Super Duplex, Duplex, Hastelloy, Inconel, stainless steels, mild steels, aluminium, brass, composites and plastics. All can be processed in the vibratory bowl and many already have been. Process times range from one hour for a batch of tough metal components down to 10 minutes for plastic parts.
There is also considerable variety in the abrasive media used. For most deburring and surface treatment, two types of ceramic abrasive of different sizes are used, plus plastic cones for lighter finishing.
Bob Wilkins concluded, "We are a medium-sized company, with a turnover of £2.5 million in the last financial year generated by 35 staff. So we have to look carefully at each item of capital expenditure.
"Even though the vibratory bowl represented a relatively small outlay, we were new to the technology and spent a lot of time researching the market, eventually shortlisting five potential suppliers.
"We chose PDJ Vibro partly because they were very helpful and communicative when advising us on the type of equipment and media we needed for our applications. The demonstrations at their Bletchley centre were impressive and reaffirmed what we were looking for.
"We also appreciated their offer to take back the bench-top machine within six months with no financial penalty and upgrade it to a larger machine to accommodate higher production quantities and/or bigger components."
Visit: Truturn Precision Engineering
Related Products