Superfinishing blog
Read the latest news, developments and opinion pieces on our superfinishing from mass finishing specialists PDJ Vibro Ltd.
In the fast-paced, high-performance world of the automotive industry, the slightest edge can make all the difference. The finishing process, and in particular superfinishing, can provide that edge. It refines the minutest details of a component's surface, impacting everything from fuel efficiency to the life span of the part. Here at PDJ Vibro, we're at the forefront of this, driving the industry forward with our expertise in superfinishing.
Vibratory superfinishing, such as PDJ Superfinishing, is commonly used on a variety of moving engine parts to improve their surface finish, reduce friction, and increase their longevity. Here are some of the moving engine parts that are commonly superfinished: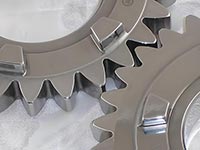 In the world of motorsport, every detail matters. The smallest adjustment can be the difference between winning and losing. One such detail is the surface finish of the components used in the vehicles. In this blog, we delve into the world of PDJ Superfinishing, a process that significantly improves the surface finish of components, and how it's making waves in the motorsport industry.