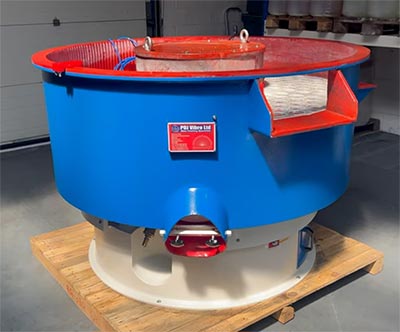 Model Numer: EVP-RA 800
Process Chamber size: 800 litres
Lining: High durable hot-poured polyurethane lining
Dimensions: Height 1225mm x Dia 1830mm

Description:
800 litres of useable volume to the underside of the unload area. Comes with ramp assist unload and also features a side load so you can put your parts in from the side. Rise in the chamber meeting the unload flap which lifts as necessary with the pneumatic ram. This bowl has a really long separation screen which is important on these machines and uses the patented easy-change system. It is in great condition after our full refurbishment strip down. The Rise in chamber allows splitting of smaller pieces if necessary, ideal for doing flat pieces, but it will do larger pieces also.
To discuss our machines suitability for your application contact Paul or Adam on 01908 648757