While the humble rumbler is often consigned to a dark corner in a factory and is one of the least likely machines to be replaced until it collapses, there is much more to vibratory finishing than meets the eye, as PDJ Vibro will explain to visitors attending the TCT Show + Personalize this year (28th and 29th September 2016, NEC, Birmingham).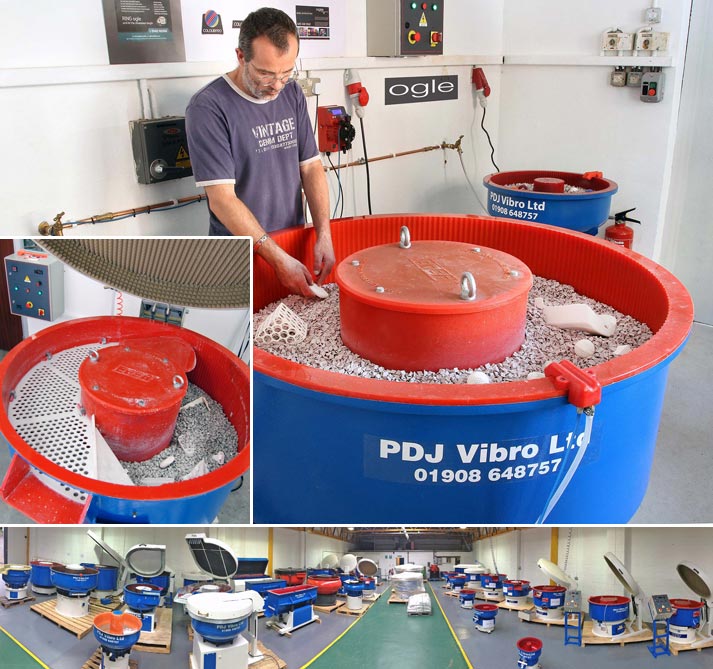 The company will use its presence to explain the many different aspects a manufacturer should take into account if it is considering automating the finishing function. A customer might be investing for health and safety reasons or to improve consistency of finish. Alternatively, if it already uses a vibratory bowl or trough, the firm may have started manufacturing different types of component and needs alternative vibro finishing equipment to process them.
A family owned and run company, PDJ Vibro has accumulated an extensive database of vibratory and centrifugal finishing solutions that it is able to share with existing and prospective customers. Its directors have over 100 years of experience between them in the industry and offer a consultancy service that is unrivalled in the business. It covers everything from deburring, edge breaking, radiusing, superfinishing, degreasing, rinsing and drying to pretreatment for anodising, chemical blacking or painting.
Vibratory finishing of 3D printed parts
Suppose that a firm specialising in metalcutting decides to add the flexibility of an additive manufacturing (AM) machine to produce complex metal or plastic components. PDJ Vibro can explain the multiple considerations when finishing such components and where the dangers lie by calling on the experience of customers like 3D printing bureaux Ogle Models, 3T RPD and Digits2Widgets, all of which use the supplier's vibratory finishing plant.
Among the important things to remember is that the ceramic abrasive should be of a size and shape that will fall away from the smallest, most confined spaces within 3D printed components, otherwise the media can become lodged. For finishing external surfaces only, larger media should be selected to ensure that none becomes embedded inside the component.
Due to the abrasive nature of vibratory finishing, sharp edges are rounded slightly and this must be taken into account. Parts with thin edge detail should not be finished in this way, as they are delaminated and a burr is created. Similarly, large sections of mesh are unlikely to survive vibratory finishing.
Flat surfaces and areas of gradual curvature are smoothed well in PDJ Vibro bowls, hiding the stepped appearance that results from the layer-by-layer build process and creating a satin-like finish. Plastic parts become more flexible after vibratory finishing, as they absorb water from the bowl, replacing some of the material's natural moisture that is lost during laser sintering at around 180°C.
Lead-time in preparing the surfaces of 3D printed items for subsequent painting is reduced by one-third using vibro processing compared with hand finishing with abrasive cloth, allowing jobs to be turned around faster. More importantly, experienced operatives are free to carry out other skilled work, improving customer service by taking both cost and time out of the process.
Technical centre consultancy
PDJ Vibro's problem solving goes further than advice on the optimal choice of vibratory finishing and polishing equipment. At its technical centre and demonstration facility in Bletchley, visitors can see over 120 new and used machines for ex-stock delivery, with part-exchange offered in most cases. Over 6,000 varieties of consumable including ceramic and porcelain media, superfinishing compounds, liquid detergents and chemicals are available, more than 70 tonnes of which are held in stock.
Nine out of 10 people bring in sample components to be finished on a free trial basis so they can see the process in action and the resulting effectiveness. This offer will naturally be open to visitors to the company's stand at TCT. Many parameters are taken into account, including the number of parts to be finished per batch, frequency of production, drainage and noise issues, the size of components and how vulnerable they are to impingement damage.
Subcontract service
Another strand of PDJ Vibro's service designed to make life easier for customers is the 24/7 subcontract vibratory finishing and polishing service in a unit adjacent to the company's showroom. It is ideal if there is a temporary bottleneck in finishing capacity at a manufacturer, or if the firm decides that it does want to undertake on-site finishing. Component batch turnaround at the Bletchley centre is typically within 24 hours.
Upgrades to existing vibratory equipment in the field can also get customers out of trouble if applications change. Perhaps automatic component separation is needed to boost productivity, or an acoustic cover needs to be retrofitted to meet health and safety requirements, or an increase in throughput means that a machine becomes too small and needs to be swapped for a larger model. All of these scenarios are factored into the service offered by PDJ Vibro.
Low-cost vibratory bowls
To complement its high-end vibratory finishing and polishing bowls, PDJ Vibro offers a range of three competitively priced models with process chamber capacities of 300, 150 and 75 litres. They will feature prominently at TCT, as these economy models have taken a large slice of the market for low volume, intermittent finishing applications and as an alternative to buying a pre-owned vibratory bowl. They therefore now form an important part of the company's product portfolio.
The economy models are built to a high specification with a durable, stress relieved bowl and cast polyurethane lining, driven by a heavy-duty, three-phase electric motor. Although normally supplied without additional equipment, a comprehensive range of options is available including PLC control of additive dosing, water metering and recirculation, as well as effluent control, automatic parts separation from the media and acoustic suppression.
Related Products