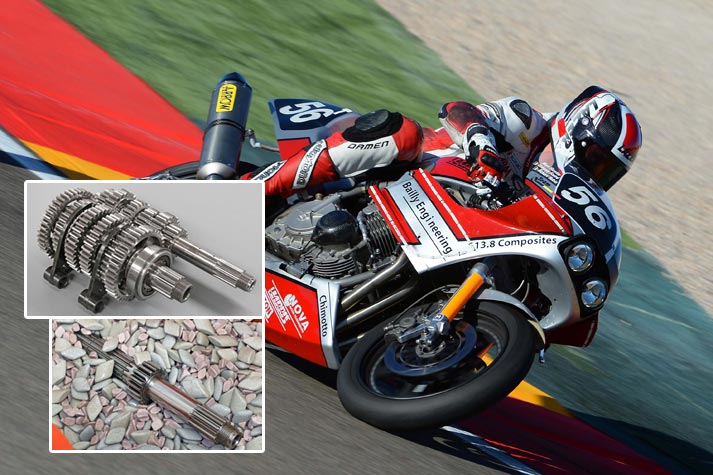 Established in 1989, Nova Racing (www.novaracing.co.uk) is one of the only companies to supply racing gearboxes to the British superbike grids. At its Partridge Green factory in West Sussex, a pair of vibratory bowl finishing machines from PDJ Vibro is employed to polish nearly all of the gears and shafts, after they have been machined and hardened, in a process referred to as superfinishing.
For the uninitiated, superbike racing employs highly modified, standard production motorcycles, as opposed to MotoGP in which purpose-built motorcycles are used. For a superbike to be eligible to race, it must maintain the same overall appearance as its road-going counterpart, so the frame cannot be modified although elements within it may be, including the gearbox.
Nova director, Sean Whittaker explained, "The major production bike manufacturers have their own racing divisions for upgrading their products for road and track racing. However they tend to charge a lot, supply can be intermittent and the parts are not necessarily optimised.
"We fill an important gap in that we reliably supply top quality racing gearboxes for typically half the price of the OEM equivalent.
"We are constantly innovating and are currently introducing a dog ring-type gearbox that meets the superbike championship regulations yet provides faster and more reliable shifting than conventional gearboxes."
There are very few gears, shafts and selector parts that are not superfinished at the Partridge Green factory, now that Nova has installed its own vibratory finishing bowls. Previously, only around 30 per cent of the certified motorsport steel components underwent the treatment due to the high cost of sending them out for finishing. Raising the proportion of superfinished components to nearly 100 per cent has resulted in a major improvement in the quality, appearance and reliability of the company's products.
Mr Whittaker continued, "Superfinishing is becoming very popular in the motorcycle world. Oil quenching of parts during heat treatment means that the various components come a different colour, ranging from light brown to green-grey to yellowish.
"So the assembled gearbox tends to look non-uniform, which detracts from its appearance. After superfinishing, all the component parts have the same, highly polished appearance and the engraving shows up better as well.
"There is no doubt that the gearboxes last longer, as the period between our supplying a gearbox and getting it back for refurbishment has been extended. It is because there is less wear on the gear teeth and reduced friction between the bearings and the hard-turned diameters on the input and output shafts.
"Anecdotal feedback from some of our customers suggests that they experience a small increase in power when racing, although this is difficult to verify and impossible to quantify.
"A further benefit of having polished moving gearbox parts is that the time needed for running-in is shorter. Few bikers adhere to the recommended period anyway and some 'pin it' on the track immediately, so having a gearbox that requires less running-in is a big advantage."

Choice of superfinishing process
When Nova's directors decided to bring superfinishing in-house, a Google search led immediately to PDJ Vibro's website. Mr Whittaker and his colleagues were keen to avoid processes that use chemicals, such as the acidic isotropic method used by its previous superfinishing service provider.
One drawback is the expense associated with disposing of the chemicals after use. Another is the tendency of the treatment to erode the metal surfaces and alter component tolerances, which are tight at the Partridge Green factory at down to ± 5 microns.
PDJ Vibro recommended the porcelain and paste process, as it polishes surfaces but the amount of material removed is negligible. This has been proved by Nova as, in addition to superfinishing bare metal surfaces, it polishes some components that have been tuftrided rather than induction hardened. There is no discernible change to the five-micron thick tuftride layer after they emerge from the vibratory bowl.
Further evidence of the microscopically small amount of metal removed by the porcelain medium is provided by very fine machining marks, such as a single-point turned finish on a shaft, that are still visible on the surface of the metal after superfinishing.
Two EVP vibratory bowls were supplied by PDJ Vibro after completion of successful trials on sample steel gears and shafts at its Bletchley technical centre. The second bowl delivered to Partridge Green was replaced after Nova originally ordered a model that was too large for its needs. It highlights a PDJ Vibro maxim: 'it is impossible for the customer to make a mistake'. All deliveries were from stock within 24 hours.
A batch of parts is processed for five hours in one of the two 100-litre capacity bowls, which is filled with two sizes of ceramic medium to optimise finishing over the entire surface of the components. A recirculating water and detergent mixture prevents oxidation of the steel. Afterwards, the components are transferred to the second bowl containing smaller porcelain stones, where they spend 16 hours overnight being polished, again in a water and detergent mixture.
Mr Whittaker concluded, "PDJ Vibro handled our enquiry well. The bowls were well priced and are even equipped with hour counters that are useful for calculating our charges and also warn when media needs changing or if a service is due.
"The porcelain medium in particular lasts thousands of hours, as it removes very little material, so running costs are low.
"The whole superfinishing process has proved a great success. It means that all of our manufacture is now in-house, except for heat treatment, allowing us to keep close control over quality and delivery.
"We can react very quickly to race situations and can produce components in two weeks, rather than the six months that most major manufacturers need."
About Nova Racing
Nova has been making motorcycle gearboxes for over 25 years and has a range of classic and modern racing gear kits in regular production. It has supplied most of the major manufacturers with prototype race gears and provided some of the largest WSBK manufacturers' teams with their sole source of gear kits.
The company's products have contributed to countless victories and multiple championships in BSB and BSS and the firm continues to supply a large part of the grid. Throughout the company's history, its customers have had many Isle of Man TT victories in all classes and several prestigious records are held by teams and individuals using components designed by Nova for the rigours of road racing.
Nova gearboxes are used with success in countless national and club series worldwide, meeting the demands of the low budget user where reliability is paramount. Some clutch parts are also supplied and the company is now considering manufacturing engine components for Moto3.
Related Products