Selective Laser Sintering (SLS) specialist – 3T RPD Ltd, based in Newbury – has recently installed a vibratory finishing machine from PDJ Vibro, to complement its surface finishing capability.
The SLS technique is used to create complex and durable prototype parts and production components, but the nature of the build process means that parts have a certain amount of surface roughness when they emerge from the SLS machine. This may be perfectly acceptable to some customers; however, others want parts to have a smoother, more refined finish, or require them to be coloured, painted or plated. The models produced by the company are used for applications such as functional testing, assembly trials, product demonstrations and launches, and marketing photography.
The team of skilled modelmakers at 3T RPD uses a variety of in-house finishing techniques to produce aesthetically pleasing parts that are often comparable to the final manufactured item. One of the primary tasks required before any finishing work can be carried out is to "dress" the part to remove surface roughness. This traditional manual "rubbing down" operation can be extremely labour – and cost – intensive.
3T RPD reports that the introduction of the new PDJ 'EVP-A350' finishing machine has significantly reduced the number of hours previously spent hand finishing the parts, enabling the company's finishing team to focus on the finer finishing requirements. The gentle action of the vibratory process smoothes the surface of multiple batch parts simultaneously in much reduced timescales. This provides a higher quality finish either for end-use or as a preparation for the application of a coat of primer or colour-matched paint, vacuum metallising or resin impregnation.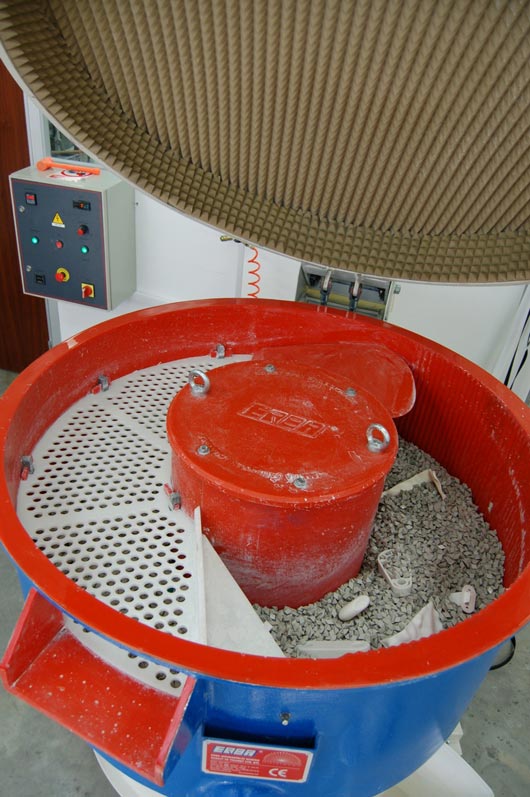 The PDJ 'EVP-A350' vibratory finishing machine at 3T RPD.
The degree to which the parts are smoothed is controlled by the amount of time they spend in the 400-litre capacity machine: on average, a two-hour cycle is sufficient for large batches of small to medium sized parts, which is a considerable reduction from individual hand finishing, says the company. The speed of the machine is also variable to provide additional process control.
Following the vibratory process, the parts undergo further specialist finishing, depending on the particular customer's requirement, or can be despatched directly to the customer without any further work, of particular benefit for applications such as fluid flow work.
Unlike tumbler-type finishing machines, which tend to have a more aggressive action, PDJ's controllable vibratory process can effectively finish internal features of components, such as channels, holes and voids, depending on component geometry.
The EVP-A350 machine installed at 3T RPD has 1310mm diameter flat process chamber, which can accommodate large parts as well as smaller batched components, and includes a pneumatic acoustic cover to reduce noise. It also features an easy-change screen system for unloading small parts and a highly durable hot-poured cast polyurethane lining.
Clive Hardy, Workshop Manager at 3T RPD says: "We have undertaken extensive trials in conjunction with PDJ Vibro, using a variety of test parts with differing dimensions and geometries to ensure we get the best results from the process. The reduction in manual work now allows us to focus on the high quality, fine finishing that is our actual area of expertise, which is being increasingly requested by our customers."
PDJ Vibro manufactures a wide range of bowl and trough type vibratory finishing machines for mass finishing applications, with capacities up to 3000 litres, as well as centrifugal disc finishers, centrifugal dryers and vibratory tumblers.
Visit: www.3trpd.co.uk