High-end manufacturing solutions for the aerospace engineering sector are provided by Bowmill Engineering from several factory units on the Nuffield Industrial Estate in Poole. In the finishing and assembly department, machined parts are deburred carefully using a variety of finishing practices. In April 2016, the company decided to augment these by installing a PDJ Vibro EVT-320 vibratory trough alongside its existing vibratory bowl machine, which was at full capacity.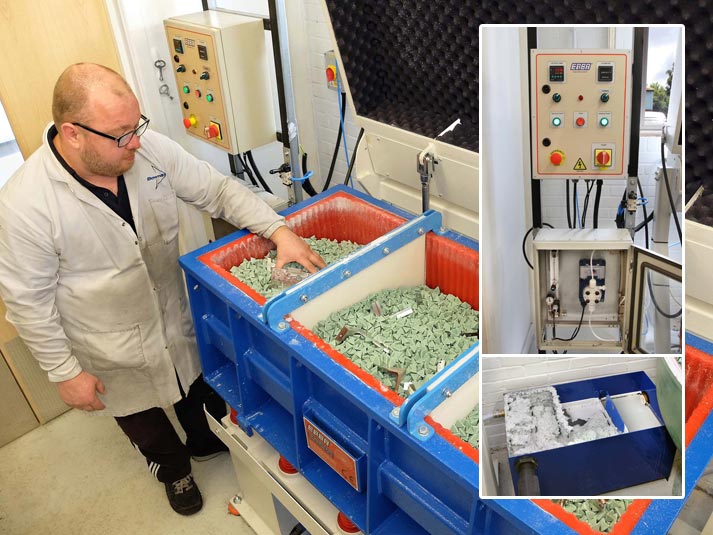 It is employed for smoothing sharp edges and finishing the surfaces of aluminium components automatically. Many are destined for landing gear on Airbus passenger aircraft, so the finish and cosmetic appearance must be of high quality. Any slight imperfection in manual deburring or marks left by polishing out cutter stepovers are now removed efficiently in a 10-minute rumbling cycle in the trough.
Established in 1970, Bowmill Engineering is part of The Bowmill Group, a privately owned business accredited to AS9100 and NADCAP, employing 120 staff at facilities occupying more than 60,000 sq ft. Adjacent to the main factory, a dedicated Airbus facility was completed in 2009 which allowed a significant increase in capacity and has resulted in the award of new contracts. In addition to landing gear kits, products routinely produced in aluminium, steel and stainless steel include hydraulic valve assemblies, engine components and ram air turbine legs.
Component production rates have continued to rise at Bowmill Engineering, which earlier this year necessitated a rethink of the company's finishing equipment. It led to the refitting of a new deburring facility to raise productivity as well as to establish a higher level of repeatability.
Additionally, part dimensions have been increasing, the largest requiring rumbling now being 385 x 315 x 70 mm. To be effectively finished, a component of this size would require a very large circular bowl, so Bowmill Engineering decided to opt for a rectangular trough vibrator.
PDJ Vibro was the chosen supplier, as the price was competitive, the company was prepared to let the subcontractor part exchange a vibratory bowl, and the trough was available ex-stock from the company's Bletchley showroom and technical centre. Other potential suppliers were quoting eight to 12 weeks' delivery.
To help keep track of the high value components during finishing and to facilitate processing different sizes of part simultaneously, the trough was supplied with two partitions to provide three separate finishing compartments.
For the largest components, one or two per compartment is usual, which allows sufficient space for effective rumbling and avoids impact damage. Typically, eight to 10 medium sized parts can be processed at the same time or up to 50-off smaller components. Extraction of parts is aided by pressing a reverse start button on the control panel, which sends the deburring media tumbling in the opposite direction, encouraging components to rise to the surface.
The usable internal volume of the 320-litre trough is 1,250 mm long by 500 mm wide by 560 mm deep. Holes towards the bottom of the partitions allow the continuously flowing mains water to pass through to the pyramid-shaped deburring stones in all compartments.
A metered dosing system has been supplied for adding detergent and other chemicals to the trough, which contains an aerospace grade, medium-grit deburring medium. Effluent is routed via a three-stage weir tank that filters out detergent residue mixed with aluminium fines, allowing the water to enter the factory's drainage system.
The highly-specified finishing equipment also includes a side chute to enable evacuation of the abrasive media and a pneumatically-actuated acoustic suppression cover.