"The vibratory and centrifugal finishing processes are new to us and even though we carried out thorough practical trials with PDJ before we introduced the machines, there was still some scepticism here about the extent of their capabilities as surface finishing tools for the type of work we undertake. I'm glad to say that practice has demonstrated that the scepticism was unfounded."

The PDJ 'EVP 250' flat bed vibratory bowl machine and the 'Turbo 60' centrifugal disc finisher installed at Dixons Surgical Instruments Ltd, Wickford, Essex.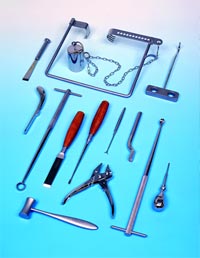 Just a small selection of the
dedicated surgical instrument
manufactured by Dixons.
"Utilising the two machines in a complimentary way provides us with a range of options, and we can achieve a variety of completely uniform, very subtle surface finishes, which are particularly acceptable for stainless steel surgical products."
The PDJ 'EVP 250' vibratory bowl machine has a 250 litre capacity, features a highly durable hot-poured polyurethane lining to minimise wear and has continuously adjustable vibration control. The 'Turbo-60' centrifugal disc finisher incorporates a speed controller with frequency inverter and has a digital process timer and digital speed indicator. A particular feature of the machine is its interchangeable gab ring system, which minimises maintenance and substantially reduces downtime when compared with other manufacturers' centrifugal machines.