Well-established precision engineering firm, Dowse Engineering Ltd, based in Bletchley, Milton Keynes, boasts an excellent reputation amongst its prestigious customer base, which includes companies in motor racing, medical technology, aerospace, and the photographic and telecommunications sectors.
Dowse Engineering's customers demand a fast, reliable and high quality service, often within short timescales, and its machine shop often operates 24 hours-a-day. The company employs state-of-the-art CNC machinery and market leading CAD/CAM software and uses vibratory bowl finishing machines, supplied by nearby PDJ Vibro Ltd, for "rumbling" and polishing precision components.
Until 2008, Dowse Engineering utilised PDJ's subcontract finishing service but subsequently bought a new PDJ EVP 250 250-litre capacity vibratory machine together with a used PDJ 'T100' 100-litre capacity trough finishing machine for use in house.
More recently, following a growing requirement from many customers for a high quality and uniform cosmetic finish on CNC machined parts – coupled with increasing long-term business from a telecommunications customer ¬ Dowse Engineering decided to invest in another PDJ EVP 250 machine and remove the existing trough machine. This decision was facilitated by PDJ offering a 100% part-exchange deal on the old trough machine against the new vibratory one.
"We are always happy to consider this type of option," says PDJ MD, David Hurley. "We aim to develop close, long term working relationships with our customers and a flexible approach to their needs is in both our interests."
Comments Trevor Dowse, MD of Dowse Engineering: "As well as allowing us to keep pace with additional throughput, running two larger capacity finishing machines give us more production flexibility and allows us to rumble and polish larger parts more quickly with minimal labour. In particular, for one major contract, we are now able to accommodate four components with their associated mechanical masks in each machine, whereas before we could only process two in the trough machine."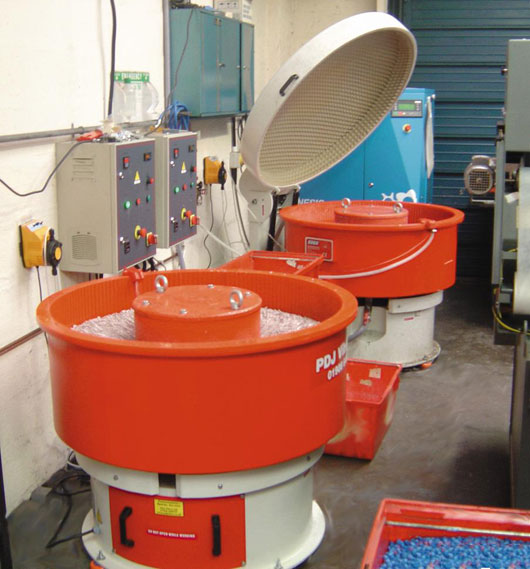 The robust PDJ EVP 250 vibratory finishing provides a high abrasive efficiency with a variety of media and has continuously adjustable vibration control. It features a highly durable hot-poured polyurethane lining and a specially designed heavy-duty electric vibration motor.