Marine wind turbines are particularly susceptible to corrosion as a result of widely variable weather conditions and constant salt-spray. Their surface finish obviously has to be tough enough to cope with this environment and ensure a maximum working life.
Marlec Engineering Co Ltd, based in Corby, is one of the world's longest-established manufacturers of marine wind turbines, wind generators and renewable power systems. The company's 'Rutland 913 Windcharger' – designed for use on both coastal and ocean going yachts – is a product well known to many sailors around the UK and overseas.
The 380mm high by 230mm wide tail fin of the 913 model is especially exposed to the elements. To maximise corrosion protection, the laser-cut 2.5mm thick mild-steel fin is zinc yellow plated and then powder coated. However, the company found that some fins operating in particularly harsh weather were suffering from paint breakdown around the sharp outside edges and were being returned for re-finishing. It was obvious that the powder coating and the underlying plating around the edge areas were deteriorating prematurely.
After investigating the problem, Production Manager, Wayne Huckle, decided to introduce vibratory finishing as part of the production process specifically to 'edge-break' the sharp corners to improve plating and coating adhesion. After production trials in conjunction with vibratory finishing specialists, PDJ Vibro, Marlec installed a PDJ 'EVP 800' vibratory finishing machine.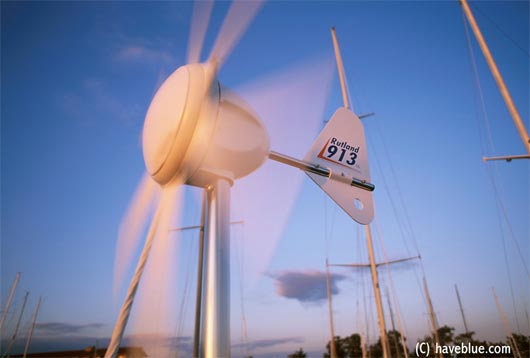 Marlec Engineering Co Ltd is using a PDJ Vibro finishing machine for "edge breaking" sharp corners on this 'Rutland 913 Windcharger' to improve plating and paint adhesion in order to combat corrosion from the marine environment.
Photograph courtesy of Marlec Engineering Co Ltd.
The company reports that employing the PDJ machine for edge-breaking has provided a much better surface key for both the plating and subsequent powder coating of the outside edges of the tail fin – optimising paint adhesion and corrosion protection.
Says Wayne Huckle: "There's no doubt that introducing the PDJ machine has significantly solved the adhesion problem; the number of returned fins has reduced dramatically since we adopted vibratory edge-breaking."
The PDJ machine installed at Marlec is a refurbished model, which helped to minimise capital outlay. The machine has a 1740mm diameter bowl and a highly durable inner hot-poured polyurethane lining and provides very high abrasive efficiency and separation, as well as continuously adjustable vibration control.
Marlec website: www.marlec.co.uk