PDJ Vibro - Vibratory Deburring & Polishing Experts
Read the latest news, developments and opinion pieces about mass finishing specialists PDJ Vibro.
Family-run PDJ Vibro, a leading provider of vibratory bowls, troughs, associated consumables, technical consultancy and subcontract finishing, will focus at MACH on the depth of experience and expertise it offers to customers. Now in its second generation and run by managing and technical directors David and Paul Hurley respectively, the company was established in 1983 by their father John, the current chairman.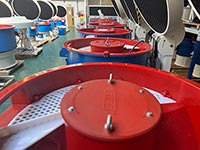 At PDJ Vibro, our clients have the distinct advantage of accessing three generations' worth of knowledge and experience. Our esteemed Chairman, John Hurley, embarked on his journey in the world of vibratory finishing back in 1964, marking the beginning of a legacy that continues to thrive today.