PDJ Vibro has earned the trust of clients when it comes to deburring, polishing, and super finishing projects. Our commitment to providing exceptional service and delivering prompt results sets us apart. Here are the key reasons why clients place their trust in PDJ Vibro: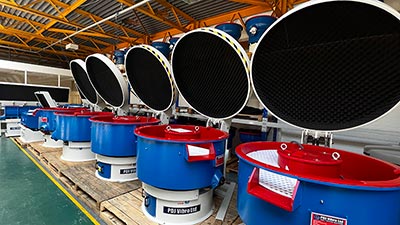 1. Same or Next Day Machines: With a stock of 120+ machines, PDJ Vibro ensures rapid access to the right equipment for your specific project. Whether you require vibratory finishers, centrifugal finishers, or tumbling machines, we have the necessary resources readily available. Our same or next day machine availability means minimal wait times, allowing you to start your deburring, polishing, or super finishing project without delay.
2. Same or Next Day Consumables: PDJ Vibro understands that consumables play a crucial role in achieving optimal results. That's why we maintain a substantial stockpile of consumables, with a staggering 240 tonnes available. Our consumable inventory includes various types of media, compounds, and additives. Our same or next day consumable availability ensures that you have the right materials on hand to support your project's finishing needs. This prompt access to consumables contributes to efficient workflow and timely project completion.
3. Same or Next Day Finishing Service: Time is of the essence in today's fast-paced business environment. PDJ Vibro recognises this and offers same or next day finishing service. Our dedicated team works diligently to process your components promptly, ensuring quick turnaround times. Whether you have urgent deadlines or time-sensitive projects, our commitment to efficient service enables you to meet your objectives without compromising on quality.
4. Extensive Expertise: PDJ Vibro's team of skilled professionals brings extensive expertise in deburring, polishing, and super finishing. We understand the intricacies of different materials, surface requirements, and finishing techniques. Our knowledgeable staff provides valuable guidance and technical support throughout your project, helping you achieve the desired results. Clients trust our expertise to deliver consistent quality and optimal finishing outcomes.
5. Quality and Precision: PDJ Vibro maintains a strong focus on delivering high-quality and precise results. Our machines, consumables, and processes are meticulously chosen and fine-tuned to ensure exceptional finishing outcomes. We adhere to strict quality standards and employ advanced technologies to meet the specific requirements of each project. The trust placed in PDJ Vibro is a testament to our commitment to excellence.
6. Customer Satisfaction: Above all, PDJ Vibro prioritises customer satisfaction. We understand the importance of building long-term relationships with our clients. By providing reliable and efficient deburring, polishing, and super finishing services, we aim to exceed expectations and foster trust. Our commitment to meeting client deadlines and delivering top-notch results consistently ensures that clients rely on us for their ongoing finishing needs.
In summary, clients trust PDJ Vibro for their deburring, polishing, and super finishing projects due to our same or next day availability of machines and consumables, prompt finishing service, extensive expertise, focus on quality and precision, and commitment to customer satisfaction. When you partner with PDJ Vibro, you can be confident that your finishing projects will be handled efficiently, effectively, and with the utmost care.
Contact us today to experience the trusted expertise and prompt service that PDJ Vibro is renowned for. Let us be your partner in achieving exceptional deburring, polishing, and super finishing results.