Immediately inside the visitors' entrance to Surface World Live, family-owned vibratory finishing specialist PDJ Vibro promoted its comprehensive range of new and refurbished bowls, barrels and high energy centrifugal equipment, as well as the vast range of consumables on offer.
The company will also stress the comprehensiveness of its services, from technical consultancy and application engineering through machine upgrade, repair and part-exchange to 24/7 subcontract vibratory finishing and polishing.
Vibratory machines ensure that deburring, descaling, edge breaking, surface finishing and superfinishing of components is carried out automatically, consistently and to a high degree of repeatability that is unattainable when processing by hand. It also reduces labour costs, reworking and scrap. At the same time, parts can be degreased, rinsed, dried and pretreated for anodising, chemical blacking or painting.
People in any industry who are currently manually finishing their components are invited to log on to www.vibratoryfinishing.co.uk/cost-calculator.html to find out how much this repetitive and unpopular job is actually costing them and how much could be saved by automating the process.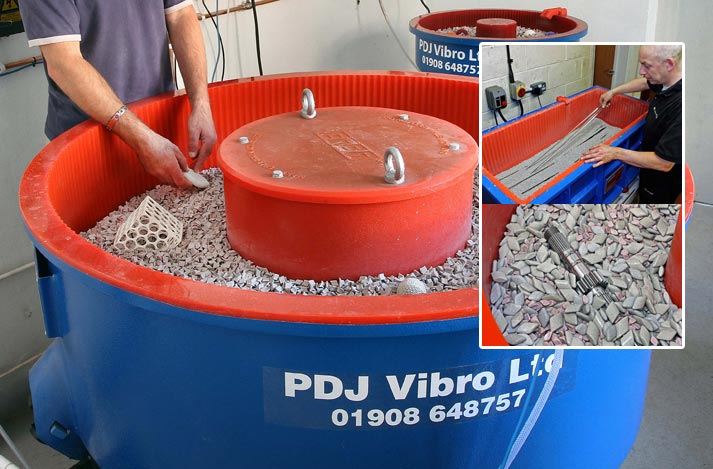 Another area of focus will be the vast range of components that can be efficiently and safely processed using the vibratory technique. Anything from rusty old chains to parts machined to tolerances measured in single-figure microns are suitable candidates for vibro finishing, as are delicate components produced by additive manufacturing.
More than 120 machines are available for inspection at PDJ Vibro's Bletchley headquarters, which houses a showroom and technical centre, a facility for demonstrations, and a subcontract finishing unit. PLC dosing of additives, water metering and recirculation, automatic parts separation, drying and acoustic suppression can be supplied with the machines. Stocked also are over 70 tonnes of the main consumable items, which run to over 6,000 varieties including ceramic and porcelain media, superfinishing compounds, liquid detergents and chemicals.
PDJ Vibro provides free process analysis and advice, taking into account the number of parts to be finished per batch, frequency of production, drainage and noise issues, the size of the components and how vulnerable they are to impingement damage. Finishing trials and sample processing are also offered, along with flexible payment and buy-back solutions.
If funding is not available for machine purchase, the company recommends its subcontract finishing capacity. Around 35 million parts are processed annually. A collection and delivery service is provided, but customers can arrange their own transportation if preferred or even wait for the parts to be ready.
PDJ Vibro's main, high-end vibratory bowl range has process chamber sizes from 7.5 to 6,000 litres, while three competitively-priced, entry-level models have capacities of 300, 150 and 75 litres. Rectangular troughs in 13 sizes with capacities from 22 to 2,200 litres are the preferred choice for finishing longer items and those made from sheet metal.